Friends of the Salon
Complementing our panel debates, we are also organising lightweight, informal discussions for the Friends of the Salon…
Our next event in on:
March 23rd, 7PM at the Zentrum Karl der Grosse
Registrations open early March

Friends of the Salon is an extension of our more formal events, focussing on facilitating similar discussions, but in more intimate settings. We also hope to provide a chance to get to know one another. You can purchase drinks at the bar of Karl der Grosse and take them into the function room. Because of the limited capacity, attendance is per reservation only. The next evenings are planned for March 23rd and May 16th.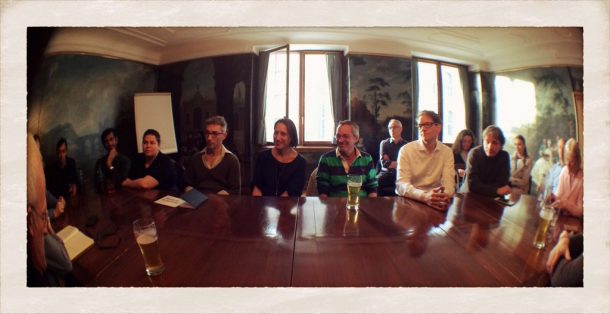 Topics and Formats
A sampling from the topics already discussed at our debates will be provided to get the conversations going. But we believe that participants will raise their own questions to discuss. We would also love to hear your opinions and ideas about what Friends of the Salon could become.
Some questions that have proven to be of interest previously are:
Is politics dead? Should we reinvent it?
Identity politics: what is acceptable, what isn't and why?
The 2010s and 2020s in historical perspective.
Technology: traffic jams in the air, etc.
Do an artist's crimes taint their work?
Should we be protected from offensive speech?
Do gender quotas result in poorer quality appointments?
Is our mind a product of bio-chemical reactions only?
Can we have privacy in the age of the internet?
Any topic of interest, feel free to bring your own 🙂
Join us there!