Limits and potential of neuroscience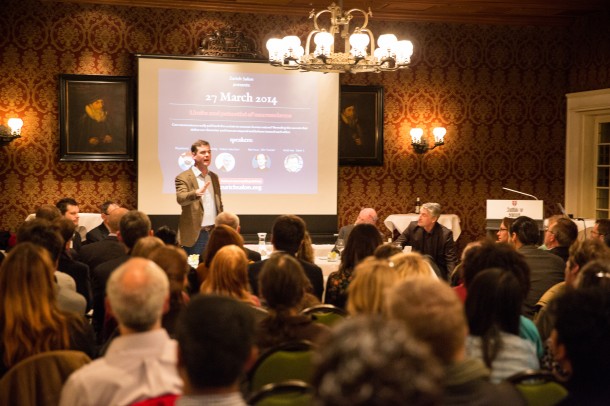 The Zurich Salon on the "limits and potential of neuroscience" attracted an audience of more than 100 people on a Thursday night.
Angus Kennedy (standing) opened proceedings by outlining why it is that Enlightenment-style Salons are making a comeback. He said their objective was to encourage free-thinking and dissent, and to spark public conversations on the key issues facing society. He stressed that Salons foster an atmosphere of intellectual freedom, and the open-ended exploration of the ideas that are shaping policy and culture. 
Scoping the neuroscience Salon
Does modern brain-scanning technology provide insights that correlate meaningfully with our emotions, intentions, and feelings? Does our ability to illuminate the mind within the brain spotlight our innermost thoughts and reveal the sources of our deepest desires?
Neuroscience has sparked the imagination of policy makers, marketeers, pollsters, communicators, artists and lawyers. They claim neuroscience explains everything from why consumers make certain choices to why people vote left or right. Some maintain it can fathom why some of us are prone to rebellion, and why we prefer one form of art over another. Increasingly, lawyers argue that clients shouldn't be held responsible for committing heinous crimes because they were born with (or an accident caused) faulty neurological circuitry.
Are those calling for a radical neuro-transformation of criminal responsibility, education, public health and social policy too credulous about what some term 'neuromania'? Or is scepticism about neuroscience driven by a myopic refusal to accept that we are less autonomous than we think?
The neurophilosopher Patricia Churchland in Me, Myself and My Brain argues that "I am who I am because my brain is what it is". Psychotherapist Sue Gerhardt writes about Why Love Matters: How Affection Shapes a Baby's Brain.
The psychiatrist Sally Satel counters that people like them have been Brainwashed by the seductive appeal of mindless neuroscience. Raymond Tallis says his groundbreaking science is being misused to undermine notions of free will and to promote crude determinism.
Has the explanatory power of neuroscience been overestimated? Or is it the key to reading our minds?