Are gender quotas a waste of time?
Do women require special pleading and new laws to "break the glass ceiling" on gender?
Since 2012 EU Commission has campaigned to make it a legal requirement for the largest 5,000 businesses in  Europe to employ 40 per cent women in leadership positions by 2020.
Last year the Swiss Cabinet of seven ministers called for a minimum of 30% of the boards of major companies and institutions with close connections to the Swiss government to be composed of women by 2020. But decided not to make it legally binding.
Some claim that companies with mixed gender boards are more innovative and more successful commercially because they bring diversity of views and behaviour into the corporate world.
Meanwhile most workplaces are desperate to recruit more women to senior positions. However even some feminists acknowledge it is women themselves who sometimes choose less demanding careers in order to take responsibility for their children, inevitably earning less money and prestige.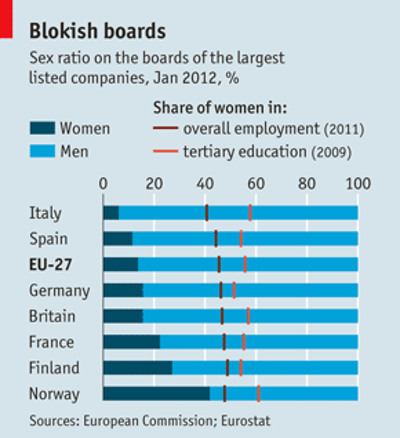 Unsurprisingly, firms dislike being bossed by government. A recent survey by the Swiss Employers' Association (SEA) found that companies prefer to create their own codes of best practice when it comes to setting their corporate governance commitments. Indeed, according to the SEA's president Valentin Vogt, legal quotas risk undermining entrepreneurial freedom. Nevertheless his organization acknowledges that the current situation of low female representation at the top of business is not acceptable.
However few people ask more probing questions:
Do the quoted statistics on women failing to reach the top of the ladder justify fixed quotas ?
Does an argument that claims women have "unique qualities" not risk being trapped by prejudice and stereotyping?
In other words, are our characters really defined by our gender?
Does modern obsession with the gender balance of top corporate jobs miss the point that different people make different choices?
Should we place most of our campaigning zeal on more mundane but substantial obstacles that women confront like the lack of child-care options?
Do misogynist employers with sexist attitudes really exist today outside the imagination of campaigners?
And do women require legal protection from the state because they are too weak to make their own choices and or to fight and win their own battles?
Where do you stand?