Friends of the Salon
Dear Friends of the Salon, let's hope we can get back to (the old) normal in 2021. You'll hear from us…
---
Friends of the Salon is an extension of our more formal events, focusing on facilitating similar discussions, but in more intimate settings. Because of the limited capacity, attendance is per reservation only, though the tickets are free. You can purchase drinks at the bar of Karl der Grosse and take them into the function room.
What should we discuss next? Nominate a topic!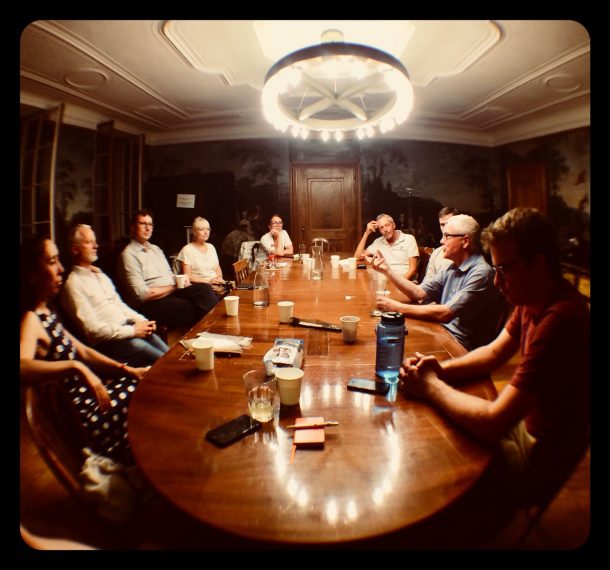 Topics and Formats
Some current issues that might be of interest include:
The health industry and medication prescription
Free will or determinism?
It's time to break up Facebook: social media's impact on democracy, public health and privacy.
Is politics dead? Should we reinvent it?
Does the EU have a long-term future?
Technology: traffic jams in the air, AI and ethics, energy and the environment.
Hate is heavily policed – but is it right to criminalize emotions?
What do we mean by 'free speech'? Are there limits to it?
Do gender quotas result in poorer quality appointments?
Contemporary events in historical perspective.
Any topic of interest, feel free to recommend 🙂
Join us there!
History
For the sake of completeness, here are the dates of our past 'friends' events:
24 Nov 2015: …lost in history…
11 Apr 2016: …lost in history…
23 Jun 2016: …lost in history…
18 Jan 2017: …lost in history…
23 Mar 2017: …lost in history…
16 May 2017: …lost in history…
23 Oct 2017: The Post-Gender Age
20 Feb 2018: Public and Commercial broadcasting services
16 May 2018: Artificial Intelligence, Automation and Robots
12 Sep 2018: Privacy in the Connected Age
12 Dec 2018: Is ageism the only socially acceptable discrimination left?
25 Mar 2019: Identity politics: a 21st century obsession?
5 Jun 2019: Mind, Soul, Consciousness…
22 Oct 2019: Does democracy need a makeover?
4 Feb 2020: The role and rights of religion in a woke world
16 Apr 2020: What to make of the Coronavirus Pandemic?
8 Dec 2020: US Elections, Covid, Great Reset
Thanks to you all friends of the Salon!