In Conversation With Frank Furedi and Alfred de Zayas: On the War in Ukraine
Our "In Conversation With" events are exclusive debates with two experts on a given topic. Purchase tickets here.

16.06.2023, at the Karl der Grosse, at 19:00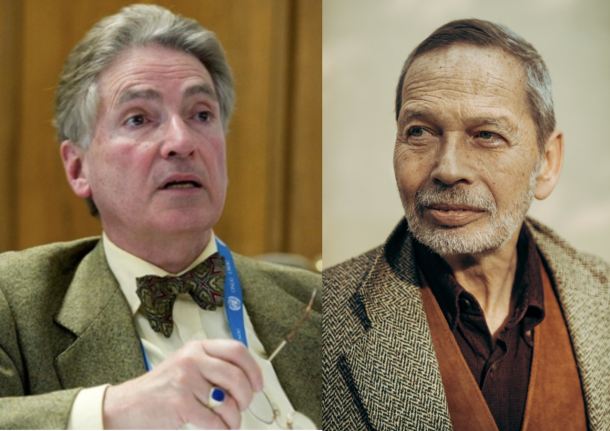 We may be witnessing the birth of a new nation tied together by bonds forged in the fire of armed resistance to foreign aggression. The importance of borders, long derided as an old-fashioned remnant of bygone ideologies, has reasserted itself. A spring offensive is on the horizon. The subject of the war in Ukraine is momentous, a highly interesting topic full of contentious points to discuss.
Some believe Putin alone is to blame for the invasion of Ukraine. Others see a complex series of events stretching all the way back to 2014. Not all outside observers have rushed to support the cause of Ukraine's struggle. They would argue that conflicts between nations rarely boil down to a showdown of good vs. evil.
The old antagonism between East and West seems to have been resuscitated. NATO has incorporated ever more countries lying to the East, approaching Russia's borders. Both sides claim they feel and fear the other's menacing presence.
The West is sending arms, equipment, munitions, and money Ukraine's way, in the hopes of giving it the edge it needs to hold Russia at bay and repel its intrusion. This has been criticized variously as a waste of money, resources, and Ukrainian lives. Certain commentators allege that Ukrainians are being sacrificed in a proxy war fought between Russia and NATO, that the entire conflict is shaping up to be another one of those interminable affairs designed to enrich the so-called military-industrial complex.
We have also placed sanctions on Russia. Gas and energy in general have become more expensive, leading to an energy crisis which has made politicians rethink restrictions on fracking and contemplate the use of more fossil fuels. On top of that, Ukraine is Europe's bread basket, a major producer of cereals, and the war has made food more expensive.

Therefore, the Zurich Salon is organizing a conversation between the sociologist Frank Furedi, author of The Road to Ukraine, and Alfred de Zayas, Professor of International Law at the Geneva School of Diplomacy. Join us for a great debate, to make your views known and have certainties challenged.
Our speakers:
Alfred de Zayas, US and Swiss citizen, residing in Geneva, Switzerland. Former UN Independent Expert on International Order (2012-18), former Secretary of the UN Human Rights Committee, former Chief of the Petitions Department at the Office of the UN High Commissioner for Human Rights, Professor of International Law at the Geneva School of Diplomacy, 2005-to now (J.D. Harvard, Dr. phil. Göttingen). Former visiting professor at numerous Universities in US, Canada, Germany, Ireland, Spain, Tunesia. Former lecturer at the Institut de Hautes Etudes Internationales in Geneva. author of 12 books including "Building a Just World Order".

Frank Furedi, author of more than 25 books and social commentator is an emeritus professor of sociology at the University of Kent. His research has been oriented towards the way that risk and uncertainty is managed by contemporary culture. His two books, The Culture of Fear and Paranoid Parenting, investigated the interaction between risk consciousness and perceptions of fear, trust relations and social capital in contemporary society. How Fear Works: The Culture of Fear in the 21st Century (2018) explored the distinct features of contemporary fear culture. He has published widely about controversies relating to issues such as health, parenting children, food and new technology.
Recommended Reading: