Is the EU a threat to democracy or its guardian?
François Hollande has declared the EU 'remote and incomprehensible', and David Cameron has accused it of being 'too big, too bossy, too interfering'. Even the former European Commission president José Manuel Barroso has called for a 'truly democratic debate' on the future of Europe.
The real power in the EU rests with the member states in the Council and with the bureaucrats in the European Commission, rather than in the elected European Parliament. And the EU has what amounts to a veto over the expressed will of non-member states such as Switzerland.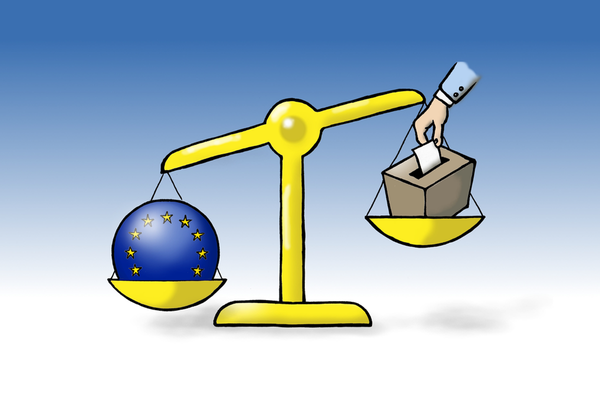 While EU politicians openly worry about the so-called 'Eurosceptic earthquake', which manifests itself in low voter turn-out, public apathy and public disengagement. They are also contemptuous of popular and militant anti-EU parties; the supporters of which they denounce as racist, backward and ignorant.
But if the EU is really so dismissive of and remote from the masses, why, seemingly, do most citizens still want to remain members? Why is there, undoubtedly, a waiting list of nations to join? For instance, the people of Ukraine are apparently willing to die to become a member of the EU and have their representatives sitting in the European Parliament.
Do the Commission, Parliament and Council of the European Union really have the right to decide policy and the law on behalf of member and non-member states; even when the majority of people of a particular nation state are clearly opposed? Or is the EU a legitimate institution that combines the best elements of our common values and democratic ethos? In other words, does the EU ensure that we never again slip into xenophobia and backward forms of rule, so that we maintain an epoch in which European nations are prosperous, interdependent and free? Or does it threaten national sovereignty?