Business bashing: should corporates 'care'?
These are said to be unprecedentedly uncertain times for business, but one area where there seems to be much certainty is that businesses need to do more than be profitable providers of goods and services: they must also do the 'responsible' thing, do the 'right' thing, for the rest of society.
It has become received wisdom that in order to restore trust, business needs to re-orientate its culture and values.
Yet is maximising profit really at odds with social good? Could the corporate social responsibility (CSR) agenda conflict with the social benefits of profit-making business? How important is trust for profitability? In a world in which government is trusted even less than business, who should decide what 'the right thing' means?
(Click on the image do download a flyer in PDF.)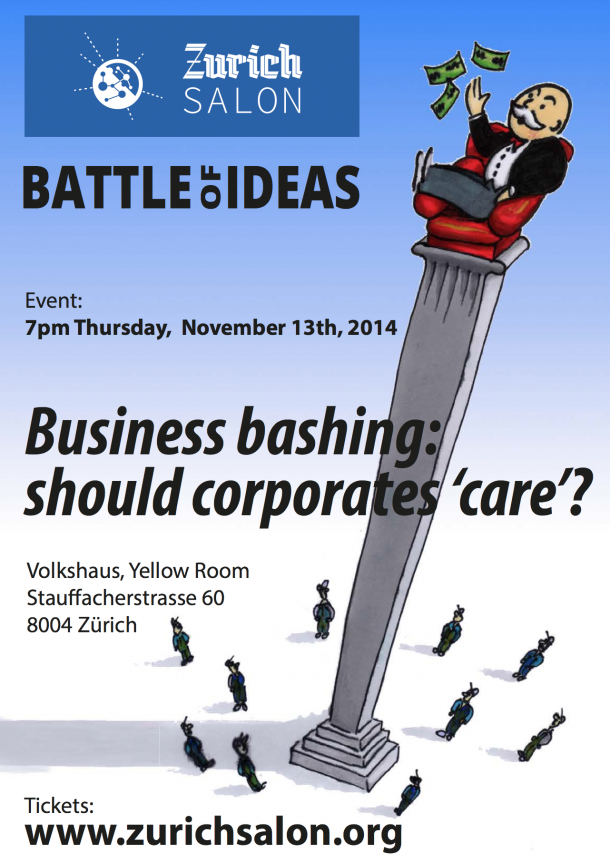 Even the widespread adoption of CSR policies seems to do little to assuage concerns. To some people, promoting your 'ethical' CSR credentials can reek of hypocrisy. Sincere CSR projects can be dismissed as 'greenwash'. When there is so little trust, can big companies ever satisfy their critics that they are doing enough?
But perhaps we should not expect businesses to 'do good'. The urge to be socially responsible through initiatives beyond the central, profit-making purpose of a company may be missing the point about what really constitutes 'doing the right thing'.
As Adam Smith wrote in The Wealth of Nations almost 250 years ago: 'It is not from the benevolence of the butcher, the brewer, or the baker that we expect our dinner, but from their regard to their own interest.' In turn, the drive to create new wealth provides the resources for many other social goods, from healthcare and education to funding the arts and museums.
Note on the Battle of Ideas satellite
This debate on "corporate bashing" forms part of the Battle of Ideas (BoI) festival, initiated by the Institute of Ideas and supported by a wide range of partners including the Zurich Salon. The BoI consists of two days of high-level, thought-provoking, public debate organised by the Institute of Ideas at the Barbican in London, and a series of standalone satellite debates throughout autumn 2014 in Europe and the USA.